Ahoy Matey, it's time to celebrate! From cool aqua blue sea colored scapes to beach inspired printable game boards, there is nothing more clever than a nautical themed party. Once you select your nautical birthday invitations, it is truly "anchors away", because this theme is endlessly inspiring. Can you imagine fun little details like bowls of licorice rope tied into sailor knots, little napkins folded into sailboats? Top your tiered cake with a glittering seahorse or anchor the celebration with vintage jars filled with sea glass and tealights. Our nautical theme invitations range from a crawfish boil to a sailboat decked out with real rope detailing.

Come sail away with us to the ultimate party theme that is timeless, nostalgic and always crisp. Start the adventure by checking out our collection of nautical themed birthday party invitations. Let us be your compass to guide you through the journey!

My little boy is the love of my life and I always want him to know that he has me for his anchor. An elegant party celebrating his journey includes handsome details like messages in a bottle wrapped in navy and white striped twine. Your centerpieces can be made of driftwood and bunches of mini hydrangea with blue thistle accents. Bundle each table setting in striped grosgrain ribbon and don't forget a handsomely patterned bow tie for the little guest of honor to look his best at his birthday celebration.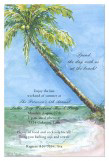 20 for $46.00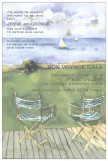 20 for $46.00


Perhaps a scrappy little low country crab boil is in order, it's absolutely natural to kick off the summer with an event like this one. A feast of crab and oysters and roasted potatoes with ears of corn is such a fun way to ring in any summer day. Don't forget the Old Bay seasoning to really get those taste buds crackin'! Your decor could consist of anchors and old fashioned tea light lanterns. Sugar cookies laced with white icing and crab cutouts. It's an all-American look from the cherry pie to the ice cream bar adorning each dessert with a tiny little American flag. You can even create a printable game of bingo to play with your guests! Serve it all up with fleets of Arnold Palmers accessorized with striped straws served in mason jars.

Your birthday invitations will greet your guests, welcoming them aboard with a beach inspired invitations. You can use flower crowns for the mommy-to-be for an exquisite affair. Or trade in the floral crown for beach buckets and surfboard decor. Nothing like a good old-fashioned beach bash to get you through the long days of summer. You can have sand brought into your backyard and set out tiki torches and play pools for the little ones. Just don't forget the beach balls and beach toys.

Grab your boat shoes or your favorite flip flops and jump on board this nautical theme, your guest will be roped in as soon as they open the invitation. Just get ready for a big splash of compliments and no one ever wanting to leave! Now let's set sail!

Check the Polka Dot Design Blog for free printable birthday invitations and party sample text. Remember that you could save up to 20% online with a promo or coupon code. For more information, email or call the Polka Dot hotline to learn how to throw a birthday party. We can help you will all your party ideas.